Carbon Fiber Face PP Honeycomb Core

Elongated Handle More Power

The Perfect Paddle For All Skill Levels

Protective Edge Guard with 16mm Core

Textured Face For More Spin
Free Shipping

Money Back Guarantee

100% Secure Checkout

Premium Quality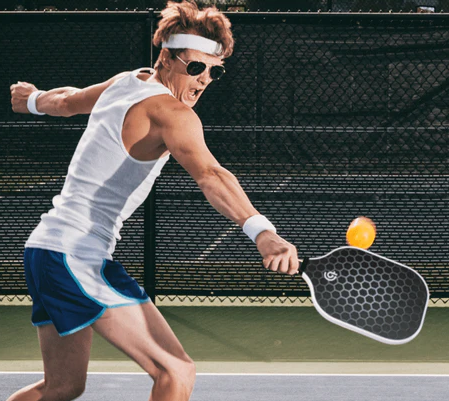 WHAT THE HECK IS A DINK?
Ah, the dink in Pickleball! It's like the mischievous little sibling of the big bad smash.
Imagine you're playing Pickleball, and your opponent just hit a scorching shot right at you. You could try to hit a smash and return the favor, but instead, you play it cool and opt for a dink. You float it over the net with just enough spin to make it look like a butterfly with a bad case of vertigo.
Your opponent charges forward, ready to pounce on the ball, but instead, it drops softly to the ground, leaving them standing there with their arms flapping like a bird who forgot how to fly.
It's like playing a game of cat and mouse with your opponent, and the dink is your secret weapon. It's the shot that says, "I'm in control here, and I'm having a blast doing it."
So, there you have it, folks, the dink in Pickleball. It's not about brute strength, it's about cunning and finesse. And if you can master it, you'll be the talk of the Pickleball courts.
LET CUSTOMERS SPEAK FOR US